When one in our family gets sick, for sure the other two will follow. We're just living the traditional quotation that 'a family that prays together stays together' only for us it's 'the family that stays together gets sick together', lol. Kidding aside, it is really hard when one member of the family is sick most especially if it's our young children. I would rather get sick myself than see my little toddler not feeling well. But since germs is lurking around, all we can do as parents is to outsmart cold and flu bugs.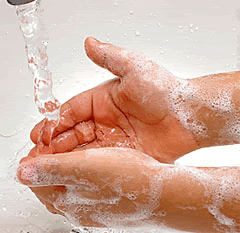 Hand washing is the number one way to fight the germs but here are more tips on how to keep the germs at bay:

Make bubbles

- Teach kids to scrub hard enough to whip up some suds. It's the friction that really matters.

Sanitize smartly

- I keep hand sanitizer in the diaper bag, my purse, the car, the bathrooms and my son's bedroom. You can never have enough of sanitizer but choose the ones with at least 60% alcohol to kill bugs.

Spot-clean

- Don't look for the dirt but rather the germs. It is important to pay attention to the high-traffic areas where germs linger, like countertops, phones, and door knobs. My daily routine in the kitchen includes wiping the cupboards' handles and door knobs with disinfectant household wipes to kill the germs that accumulated during the day.

Wipe on

- Use each wipe on only one surface, then toss it.