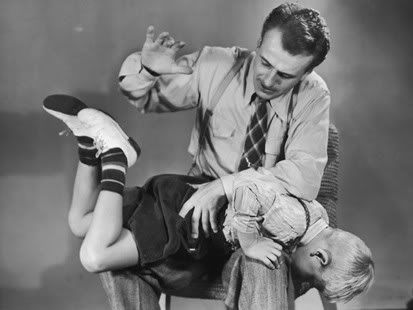 I came across a blog talking about spanking as a form of discipline and some bloggers commenting against it. This is a very delicate matter to discuss and yet an important issue to tackle. While parents have different style of disciplining their children, the question still remains - is it right or wrong to spank our kids? What do the experts say?

This is what I read from the book of Eisenberg, Murkoff and Hathaway of "What to Expect the Toddler Years" and I want to share it to all moms.


Spanking as a means of discipline has been passed on from generation to generation in many families. Nevertheless, most experts agree that spanking is not effective. Children who are spanked may refrain from repeating a misdemeanor rather than risk a repeat spanking, but they

obey only out of fear

. Instead of learning to differentiate between right and wrong, they only learn to differentiate between what they get spanked for and don't get spanked for. And they

rarely learn self-discipline

.
Spanking also has many other negative aspects:

It sets a violent example

. Children who are spanked are more likely to use physical force against peers, and later against their own children.
By teaching children that the best way to settle a dispute is with force, spanking

denies them the chance to learn alternative, less hurtful ways of dealing with anger and frustration

. It also

represents the abuse of power

by a very large, strong party (or bully) against a very small, comparatively weak one.

Spanking is

humiliating and demeaning

to both the parent and the child, often

shattering self-esteem and morale

.
Spanking can also

lead to serious injury

, particularly when it happens in the heat of anger.
Spanking after the anger has cooled may cause less physical damage, but seems even more questionable. It is certainly cruelly calculated, and in the long run is

less effective in correcting behavior

, since the punishment is so far removed from the offense.
Some experts (and parents) believe that a smack on the hand or the bottom may be warranted in a dangerous situation to get an important message across to a child too young to understand words. For example, when a young toddler wanders into the street or continues to approach a hot stove following a stern warning to stay away. The idea is not to inflict pain, but to quickly call a child's attention to the seriousness of the situation. Such a slap should be followed by an explanation: "If you run into the street, a car could hurt you."

Once a child shows that he or she understands what you say, however, physical force is no longer considered justifiable even when safety is an issue

.
* * *

WHEN SPANKING BECOMES AN ABUSE
:
It is very rare that a parent will intentionally hurt a child. Most child abusers inflict physical punishment either out of anger or because they believe they are doing it for the child's benefit. Most were disciplined the same way themselves. But anything more than a smack on the botton (well-padded with a diaper) can injure a child, especially a young one. Even something as seemingly harmless as shaking can cause serious damage in the infant or toddler. Certainly, using a belt, ruler, or other weapon is extremely dangerous.
If you ever feel as though you can't control yourself and want to strike your toddler, get help immediately. Call a neighbor or friend who lives nearby or your local child abuse hotline. ( it will be listed in the white pages under Child Abuse and may also be listed in a special section, such as Community Services Numbers, in the front of the book. Do the same if anyone who cares for your child or lives in your home attempts to or actually does hit your child. To have the number handy should you ever need it, fill the number in now under the "Emergency Numbers" listing on the inside back cover of the book.